Great Yarmouth is a seaside town in the East of England. From the success of the fishing industry in medieval times to its popularity as a Victorian tourist destination, the town was once a thriving area. But, changing employment and spending patterns meant that by the 1990s the area was one of the most deprived places in the country and in need of regeneration, particularly the historic principal road of King Street which was all but abandoned. Since then, the arrival of Portuguese migrant workers attracted by recruitment for nearby poultry processing factories has led to a transformation of the area into a unique, busy and multicultural neighbourhood. This project was designed to tell the tale of this regeneration viewed through the eyes of the Portuguese residents and create a "platform for community voice, for people to tell their stories, share their experiences and celebrate together, promoting a deeper sense of community cohesion, unity and belonging."
Out There Arts is an independent arts development charity dedicated to delivering outstanding circus and street arts and educational projects. For this story, they created a schedule of three main strands to engage the 10,000+ Portuguese speaking residents and wider community: a heritage learning programme, community décor making workshops and a multicultural celebratory event on King Street. The programme delivery involved collaboration with a number of local museums, cultural sites and heritage organisations including The Time and Tide Museum, Creative People and Places: Freshly Greated, St. George's Theatre and the Great Yarmouth Preservation Trust.
Community celebrating cultural heritage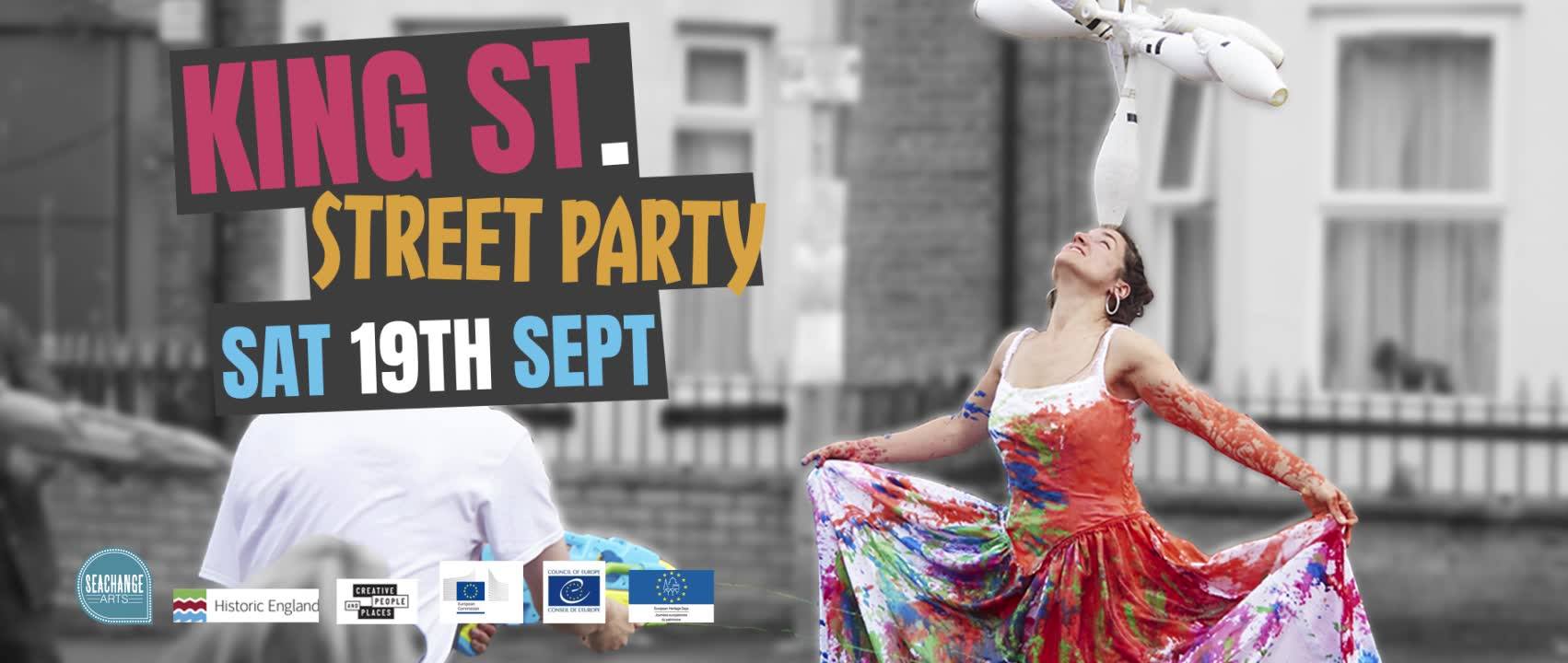 The heritage learning programme focussed on recording oral histories to give a permanent voice to the Portuguese community and promote a deeper sense of unity and belonging. After 10 volunteers were trained by the Time and Tide Museum, an online local history talk, reminiscence sessions and story gathering activities led to more than 40 local stories being recorded for the museum's archive. The stories collected were also used by the St George's amateur theatre group to produce live and filmed performance vignettes inspired by the local history.
The community décor making workshops were designed as an outdoor urban arts project to share, exchange and celebrate the area's diversity through creativity. Hundreds of craft packs were distributed around the local neighbourhood, accompanied by online and face-to-face workshops to create decorative installations for St. George's Plaza and King Street, influenced by Portuguese arch decoration such as those of the Arcos de St Antonio festivities. A local artist was also commissioned to create a large-scale canopy of birds for the Plaza, echoing the themes of migration, location and identity.
Successfully adapting events to pandemic
The celebratory street event was planned as a food and cultural party, with a quarter-mile long catering table, outside traders and performances inspired by Portuguese festivities such as the Semana Santa, Festa das Cruzes, Feast Day of Saint Anthony and Feira de São Mateus. The day was scheduled for 19th September 2020 as part of the annual Out There Festival, and to coincide with England's Heritage Open Days. Full plans could not go ahead due to sanitary restrictions. However, the activities were successfully adapted, with a digital programme of recorded stories, photographs, live streamed vox pops, performance and artwork created by local artists presented online.
The in-person elements of the street celebration were scaled back to a reduced capacity to allow a Covid-secure event to go ahead. Professional circus performances from surrealist performer, Dulce Duca, and music, singing and theatre from the Daisy Theatre Group kept visitors entertained, with circus workshops and craft activities giving everyone a chance to get creative. Additionally, the recorded oral history stories were set alongside bird song and traditional Fado music to create a soundscape along King Street, while bars and cafes served diners safely outside. The day was sunny, fully booked and received a positive feedback, with organisers feeling it was hugely successful. A sense of the fun, activities and community engagement on the day can be seen in this short 'Celebrate King Street!' video.