Vladislava, from the National Coordination team, has shared with us how the competition worked.
Children and young people between 10 and 18 years of age were welcome to participate. Those willing to take part were required to choose one out of four possible nominations; each nomination concentrated on one type of heritage and the participants were welcome to share more about an object of the heritage of their interest through submitting a creative work either in a video or an image format.
The first nomination, "Alexander Nevsky as a key figure in the history of Russia" coincided with a nationwide celebration of St. Alexander Nevsky's 800th birth anniversary. The contestants were invited to examine the role that St. Alexander Nevsky played in shaping Russian history and the importance of historical landscapes and places that are directly related to the course of his life.
The other nomination that the participants were invited to take part in touched upon the topic of intangible cultural heritage and contestants shared their creative works that explored different languages and dialects, customs and traditions of peoples and various nationalities of Russia as well as creative works that explored the literary, musical, theatrical and cinematographic heritage of Russia.
The third competition nomination, 'Architectural and archeological heritage of Russia', invited contestants to explore unique examples of engineering techniques used in urban landscapes of their cities and towns, as well as historical and cultural landscapes, archeological and sculptural monuments, memorials.
The fourth nomination overlapped with the central topic of European Heritage Days-2021 in Russia and pertained to the theme of Science and technology. Within the context of this nomination, participants were welcome to explore industrial architecture, as well as architecture techniques used in creating university and research centers buildings, laboratories, libraries, observatories, scientific towns, objects of space infrastructure, objects of the railway and other transport infrastructure, buildings of factories and workshops, power plants.
Each competition entry was followed with a brief description in which contestants were urged to explain why they chose to examine that specific object of heritage, why it was important and what sources of information they used while creating their project.
More than 450 children and young people took part in the competition and the geography of the event was truly astonishing: creative works were submitted from all over the country including such places as Sakhalin, Pskov, Niznevartovsk and Krasnodar.
Participants' entries and their descriptions were assessed by competition judges in two stages. Competition judges consisted of 11 people coming from different professional backgrounds and included heads of leading research institutes, members of the Union of artists of Russia, representatives of government agencies involved in the conservation of cultural heritage, leading specialists of the cultural institutions of Russia.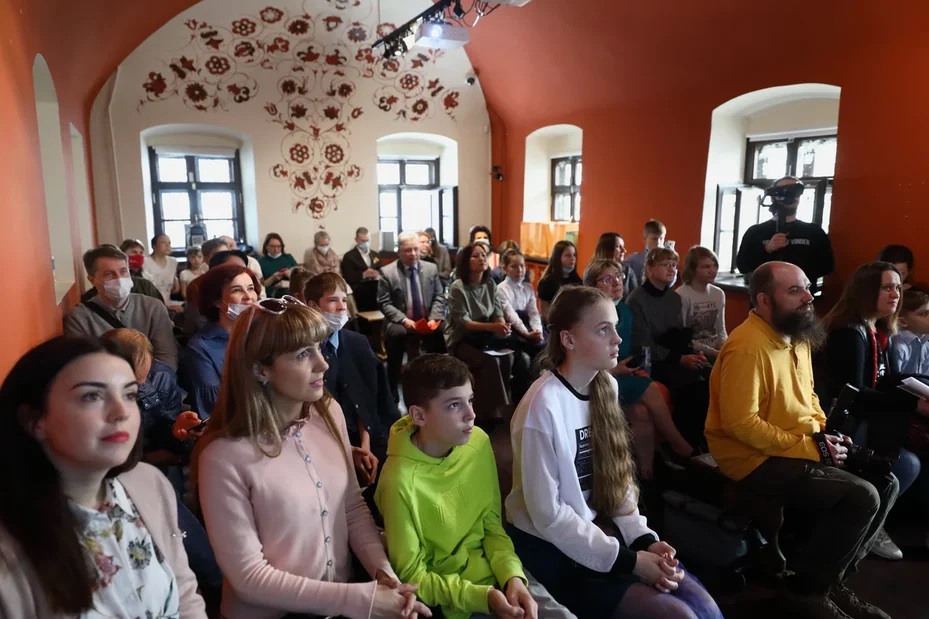 According to the results collected from the competition judges, out of 452 participants, 42 became finalists. The second stage of judging saw 12 winners being chosen as well as two other contestants receiving honorable mentions. Online voting was also held which allowed the wider public to choose 4 additional winners out of the contestants that became finalists.
Winners of the competition, those participants that received honorable mentions and their families were invited to attend the awards ceremony that took place on May 13th in Moscow. Children and young people were presented with memorable gifts and diplomas after which they were invited to attend an exhibition at the State Historical Museum.
Full information on the event can be found on the official website of the Institute: Конкурс детского и юношеского творчества, посвящённый 800-летию князя Александра Невского Российский НИИ культурного и природного наследия им. Д. С. Лихачёва (heritage-institute.ru)
If you wish to learn more about the awards ceremony, you are welcome to visit this link: https://heritage-institute.ru/?tribe_events=v-moskve-nagradili-laureatov-tvorcheskogo-konkursa-posvyashhyonnogo-800-letiyu-knyazya-aleksandra-nevskogo