Bulgaria: 28th August – 30th September
Over 300 events are planned for European Heritage Days – Европейските дни на наследството – in Bulgaria. The theme chosen is 'Heritage of, by and for Everyone', as part of the overall shared topic of Heritage: All Inclusive running across Europe, and as a way of connecting people and reviving cultural experiences within the lasting pandemic restrictions. This is the 38th year events have been held in the country, with 75 municipalities and organisations such as museums, galleries and libraries expected to take part. The national programme is coordinated by the Ministry of Culture, and in collaboration with the French Institute in Bulgaria and Sofia Municipality in the capital city.
Events planned include a Living Heritage exhibition dedicated to the Independence Day of Bulgaria in Asenovgrad, a folklore festival showcasing dance, music and costume in Bansko and a look at the production, food and culture of the plum industry which the Troyan region is known for.
More info at: mc.government.bg
Armenia: 18th – 19th and 25th – 26th September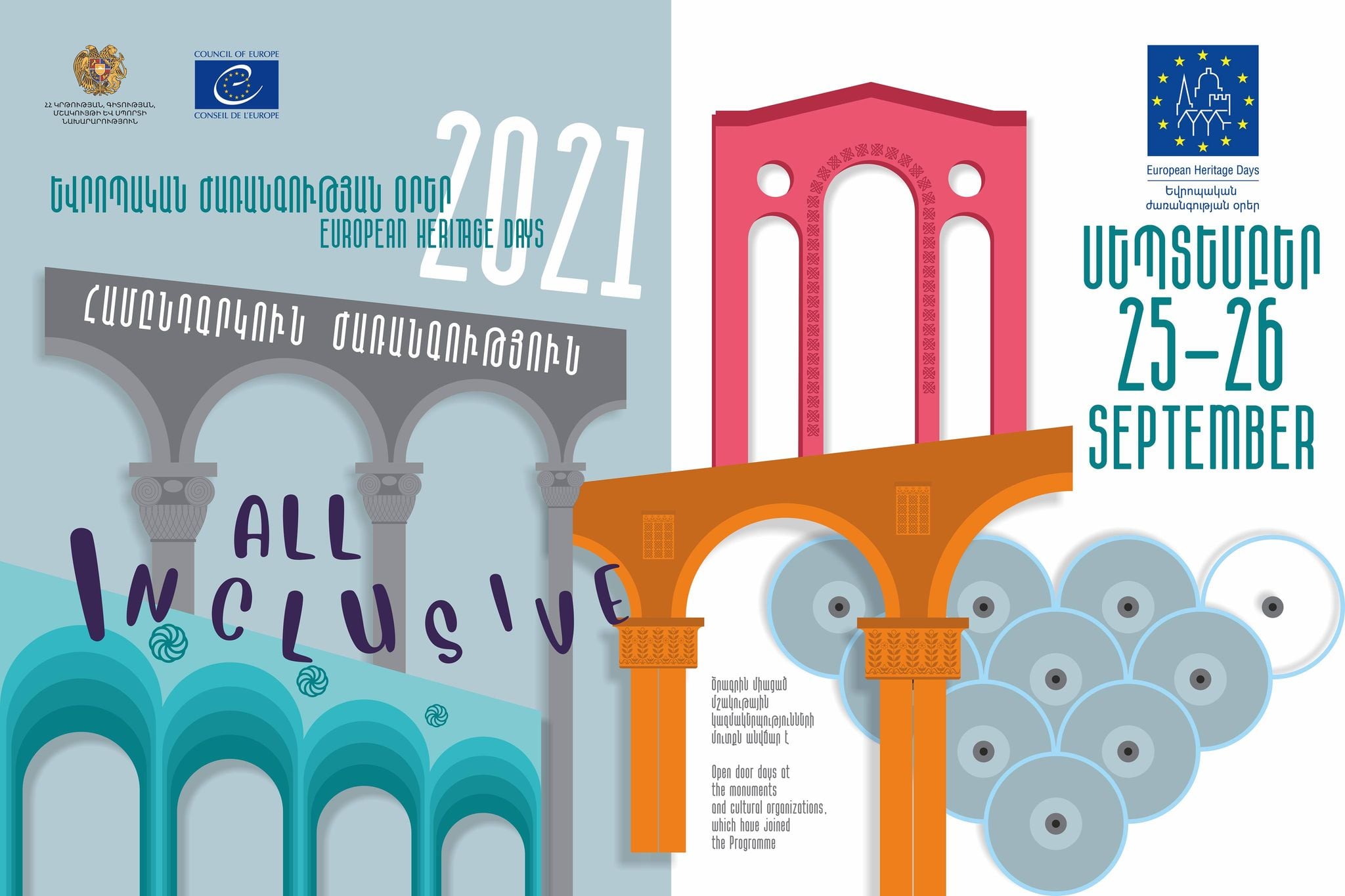 European Heritage Days in Armenia – Եվրոպական ժառանգության օրեր – will be taking part in this year's shared theme, 'Heritage: All inclusive'. Run by Ministry of Education, Science, Culture and Sports, the programme will see more than 200 special events organised by over 100 cultural organisations. The launch event of the second weekend will include choral and piano performances in Yereruyk Cathedral, with earlier events including the presentation of a book about the 3D reconstruction of Urartian cities and the opening of new archaeological exhibition. Educational events for children will be particular focus this year, while places which are not normally open to the public will also be welcoming visitors with events including activities such as concerts, films, guided walks and lectures.
More info at: escs.am/am
North Macedonia: 22nd – 28th September
In North Macedonia, the theme for this year's European Days of Cultural Heritage – Европски денови на културното наследство – is 'Heritage for Everyone', with coordinators emphasising the positive effects of shared experiences and the role of cultural and artistic expression in celebrating diversity. A particular focus for many events will be on encouraging disabled people to take part, such as through creating tactile images and Braille displays and improving the physical accessibility of tours and workshops. A range of in-person and digital events can be expected, as well as special activities and exhibitions exploring the history of railways as part of the European Year of Rail.
More info at: facebook.com/muzej.makedonija
Greece: 24th – 27th September
In Greece, the programme of events for European Heritage Days – Ευρωπαϊκές ημέρες πολιτιστικής κληρονομιάς – will be designed around the overall shared theme with the Ministry of Culture and Sports naming the theme, 'Legacy Open to All!'. Two additional themes are also taking place to recognise other anniversaries and events; 'Traveling by Rail' coincides with 2021 as the European Year of Rail, while a focus on the life and work of Greece's First Governor, Ioannis Kapodistrias remembers the 200th anniversary of the 1821 Greek Revolution.
More info at: culture.gov.gr
San Marino: 25th – 27th September
San Marino's Giornate Europee del Patrimonio is inspired by the overall shared theme, 'Heritage: All Inclusive'. The Tourism and Culture Department, together with the Secretariat of State for Culture and the Secretariat of State for Tourism have coordinated a programme of guided walks and tours as well as concerts and performances, with many museums offering free entry. Additionally, a special focus on 'Tourism for Inclusive Growth' on the final day will see an online ribbon cutting ceremony to announce new sites joining the 'Lovely Places' project, as well as a presentation recognising the best rural villages promoting responsible, sustainable and universally accessible tourism.
More info at: visitsanmarino.com
 

Albania: 27th September – 3rd October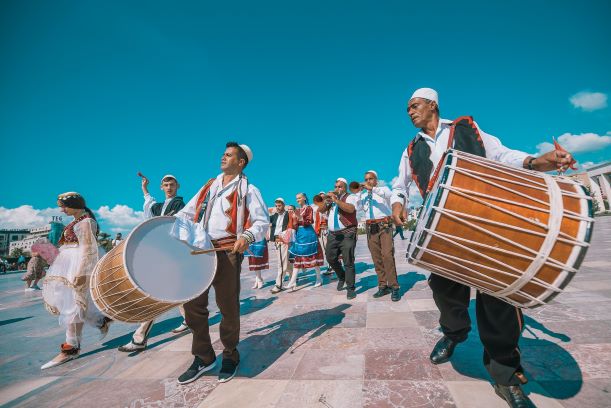 European Heritage Days in Albania – Ditët Europiane të Trashëgimisë – is run by the Ministry of Culture. The theme for this year follows the overall shared theme being celebrated by countries across Europe, 'All Inclusive' – Të gjithë të përfshirë. Events are planned to take place across the final week of September and into October; more information on the programme and how visitors can get involved will be released shortly.
More info at: kultura.gov.al
Croatia: September - October
The 'Heritage for All' theme during Croatia's two-month long Dani Europske Baštine, is looking to "encourage togetherness, cooperation, inclusion and equal opportunities for all social groups to experience cultural heritage" say coordinators at the Ministry of Culture. The programme was launched earlier in the month by the Prime Minister at a special event at the Krapina Neanderthal Museum, which featured performances and interpretation of Kajkavian poetry by local primary school students. Other literary events are also planned to continue celebrating 2021 as the country's 'Year of Reading'. Visitors can also expect a variety of workshops, tours, exhibitions, presentations and lectures, with many events taking place online to encourage participation of a wider range of audiences.
More info at: min-kulture.gov.hr
Montenegro: 27th September – 1st October
European Heritage Days in Montenegro – Dani Evropske Baštine – is looking to bring cultural heritage closer to the general public with a week of events based on the overall shared theme. The Ministry of Education, Science, Culture and Sports, invited organisers in the fields of culture and cultural heritage to participate in the 'Heritage Open to All' theme, with coordinators explaining that the goal is to increase "participation of groups that are traditionally less represented and marginalized in the presentation and interpretation of cultural heritage".
More info at: gov.me/mpnks
Malta: 2nd – 3rd October
In Malta, a weekend of events for European Heritage Days – Jiem Ewropej tal-Wirt – will be centred around the shared theme, 'All Inclusive'. Coordinated by a range of organisers including The Valletta Cultural Agency, Heritage Malta and the Superintendance of Cultural Heritage, events will include everything from an operatic performance, a night-time bike ride, a live archaeological dig and exclusive entry to catacombs not normally open to the public. Additionally, an immersive art installation will be focusing on individual perceptions of the Maltese Capital City, while special tour at the pre-historic Ta' Hagrat and Ggantija Temples will be tailored to engage with both younger and older age groups.
More info at: gov.mt
All events during this year's European Heritage Days or mentioned in this article may be subject to change or cancellation due to public health regulations. All participants should follow the Covid-19 guidelines and restrictions for their area and circumstances to allow everyone to enjoy events safely.