Stay to Talk – a community-based cultural project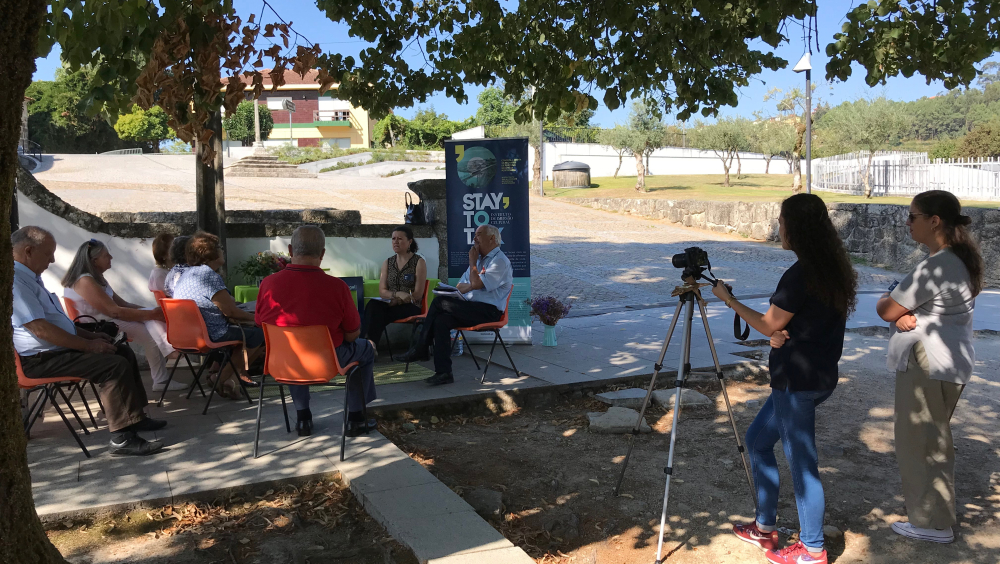 Overview
Once upon a time, there was a small community that witnessed an increase in local accommodation and challenged visitors to experience the countryside. However, the movement of these visitors either did not happen or when it did happen, it was superficial and not mediated locally. In fact, there was no opportunity for locals to get to know their visitors and for visitors to get to know the knowledge and know-how of the people they visited.
Facing this situation and through cooperation, Stay to Talk – Instituto de Imersão Cultural was born. This social innovation project was created to minimise this situation. Even in the written stage, it was awarded by the community in which it would be implemented. The project grew in a participatory manner and matured in the first Social Innovation Incubator in Portugal, IRIS (Regional Social Innovation Incubator), fundamental in structuring the mission and defining its social purpose.
Stay to Talk was born in 2018 as a social impact project to introduce a new tourism concept in Portugal - idiomatic tourism. Its essence is community-based, and it works to make visitors and the local community aware of the value of local identity. It wants to bring different cultures together, thus promoting a better understanding between people and strengthening peace in the world. Stay to Talk Instituto believes that networking is fundamental in tourism and culture. To this end, it adopted a posture of cooperation to promote governance that encourages the economic and social development of the contexts where its intervention is felt. It also studies cultural heritage scientifically. It studies and collects cultural evidence to work with a development purpose, to involve communities and contribute to local development, inclusion, and social cohesion. Its social activities aim to create fair opportunities for the local population, value their customs and culture, and raise awareness of nature conservation.
It works intensively with Portuguese culture and language. Through literary, creative and idiomatic tourism, it constantly engages with the local community through the Network of Community Cultural Agents (RACC). RACC is a work network of individuals, organisations, public and private institutions. It aims to identify talent and put it to work in ​​sustainable tourism implemented on a community basis. Each identifies their talent - local cultural and agricultural knowledge, harvest dates, handicrafts, rehearsal dates of the folk dance groups, and places of interest, making themselves available to receive visitors. This network comprises individuals, public and/or private entities, who value local knowledge and development and come together to make it happen through cooperation for the common good. This means everyone has the opportunity to benefit from the social and financial advantages that tourism can bring to the community, as long as they are organised in a network.
Stay to Talk Instituto wants to contribute to peaceful, inclusive societies and sustainable, regenerative development. It wants to do so by developing this cultural mediation response. It is community-based, legitimised by educational tourism, heritage education and materialised in cultural immersion experiences. Stay believes in a world aware of its social problems and solutions based on acknowledging its diversity and identity, an action for inclusion and a glocal thought.
Now it's time to see visitors/tourists leaving their accommodation in order to visit an artisan, experience the texture of black clay or the wood that shapes the traditional viola, have lunch at the tavern on the corner and have the possibility of experiencing the daily life of the farmer. This sustainable tourist-cultural response turns out to be a genuine multicultural encounter, which enriches both parties – visitors and locals.
At the end of the day, now our visitors can claim they knew the places and their heritage because they really got to know the people who make it up.
Stay to Talk was born in 2018 as a social impact project to introduce a new tourism concept in Portugal, Language Tourism. This type of tourism is already developed in Spain and some Latin American countries with Spanish and in Brazil with Portuguese, through entities promoting language and culture teaching with tourists.
When preparing the project, we insisted on building it in a participatory way, listening to the community and the entities with accommodation. In that same year, our ​​social business idea was recognised by the Intermunicipal Community of Tâmega e Sousa (governmental entity), and it was awarded 2nd place in the "Ideas with a Future" category at the Tâmega e Sousa Entrepreneur Award 2017. This award brought the great potential to promote new products, production processes, services, forms of marketing and/or market approaches. It would be the beginning of a challenging and resilient journey. We were incubated at IRIS with a social purpose. We have been affirming ourselves as a social impact institution, with tourist entertainment, programming and cultural studies. We permanently challenge national and international visitors to stay and carry out different learning experiences, in a local context, in the North of Portugal.
To this end, we dedicate ourselves to studying and recording the local culture (documenting life stories, photographs, historical evidence and much of the region's material and immaterial heritage), which facilitates the acquisition of the necessary knowledge for co-mediation, in partnership with the local inhabitant and to bridge the gap between the visitor, the inhabitant and their respective local knowledge, carrying out different Cultural Immersion Experiences, such as: defoliating, harvesting, a literary tour, a painting and/or weaving workshop. It is a win-win situation for both parties involved. On the one hand, the visitor gets to experience genuine local knowledge. On the other hand, locals with intercultural skills can sell their products directly to visitors through fair trade.
Our essence is community-based, based on social work and guided by sustainable, cultural and creative values ​​and practices that inclusively embrace the community. We aim to create fair opportunities for the local population through our social activities, value their customs and culture, and raise awareness of nature conservation. We plan our interaction with the community in two moments. On the one hand, with the Cycle of Community Soirees to make the first approach and make the concept known and, on the other, in a second intervention through the Community Workshops developing community skills.
This time, the Cycle of Community Soirees in 2019 rose. With just four events, we covered around five hundred participants. It is about a social and community initiative that privileges social inclusion, intergenerational sharing of knowledge, enhancement of cultural heritage and identity, revitalisation of values, customs and traditions, and respect for cultural diversity. These bi-monthly community meetings aim to promote moments of gathering and sharing to propose and explain the advantages of implementing the Network of Community Cultural Agents (RACC). They help identify the talents of people and entities that want to take advantage of this network and consecutive work in community-based tourism. It should be noted that Stay's initiative was recognised by the Forum for Integrated Governance (Govint), as part of the National Year of Collaboration (2019) in Portugal, with the High Sponsorship of the President of the Portuguese Republic.
With the pandemic installed at the beginning of 2020, we had to reinvent ourselves and redouble our strength not to break this connection with the local community. In replacing the Saraus, we decided to bet on proximity contact via a program entitled "Stay at Home to Talk about…(chosen parish or municipality)". The idea was to, essentially, maintain contact with the community to work in cooperation and identify the best that the different localities have to visit. At the same time, this program made known a whole research work that we were developing, providing moments of literary, cultural reflection. It grew based on collaborative work between people and local entities. We wanted to convey a message of hope during a pandemic to offer a learning experience through this social initiative. This way, the community would get to know little better their land and the neighbouring territories. We developed two seasons in a total of 90 episodes relating to a journey through the material and immaterial heritage of these territories, duly mediated by their people.
In the second moment of intervention in the community and thinking about the network RACC, we felt the need to prepare these or other people who knew their community well. We wanted to build, register local knowledge and develop communication skills that, clearly and with legitimacy, the community itself knew how to communicate its local heritage. Basically, it was a small training for the locals through the Collaborative Workshops. It would enable them to welcome the visitor/tourist, get to know their local heritage when mapping, and, if they wished, be trained as Mediators Cultures of the Site.
From this social intervention arises our community-based tourism activity. We propose visits that challenge tourists/visitors to have local cultural immersion experiences with these cultural mediators, who end up telling their stories, explaining and showing what is best.
Stay to Talk – Cultural Immersion Institute (Site:www.staytotalk.pt)
European Dimension
In 2018, European Union dedicated to Cultural Heritage was an emblematic milestone for a European project of peace, hospitality, mutual assistance, sustainable development, and cultural diversity defence. It was precisely in this year and within this context that Stay to Talk Instituto proposed to work with material and immaterial heritage. It implemented a community-based project based on participatory action. It is a project where locals learn how to identify, get to know, enjoy, and finally have the opportunity to communicate the best in their homeland.
The Stay to Talk Institute, in a broader perspective, is inspired by European Union values ​​such as free and responsible citizenship, shared sovereignty, the union of free and sovereign States, supranational democracy, subsidiarity and development oriented towards human dignity. Stay wants to put them into practice locally. It wants to be the link between the local, national and global, to show that it is possible for different cultures to co-exist, that they meet, that knowledge is created by valuing each one without minimising any, thus contributing to the preservation of the shared memory, for a living memory. Having a living memory is taking care of what we receive and not leaving it to abandonment. It is valuing ourselves is a way of respecting ourselves. Therefore, taking care of our heritage with our people is thinking about the future and that tomorrow will have the opportunity to attract future generations' attention. Working from a perspective of shared responsibility involving the built and material heritage, the intangible, nature, landscape, digital world and contemporary creation, as the value of cultural heritage was conceived in the Framework Convention of the Council of Europe signed in Faro on 27 October from 2005.
We are concerned with being sustainable, with the management of material resources, with environmental issues, but, essentially, with people and their Culture, with massive respect for memory, for the heritage received from previous generations, education, art, and creativity. However, as Guilherme d'Oliveira Martins (2020) says, "How to guarantee sustainable development, based on knowledge, learning, innovation, cohesion and quality of life?"
Stay to Talk – Instituto de Inovação Cultural aims to answer this question through its actions, stimulating and relating areas such as Education, Tourism and Research. We develop our activities to satisfy visitors' needs without forgetting or obstructing those of the preceptor regions., protecting them and expanding their future opportunities. We do this through immersion experiences and sustainable cultural tourism - both idiomatic and literary. We want to make people more aware, autonomous, supportive, and, responsibly, assume the plurality of languages ​​and cultures. We work to promote peaceful and inclusive societies. For sustainable development, we want to contribute to a world aware of its social problems, with solutions based on recognising its diversity and identity, an action for inclusion and glocal thinking.
On the spot, the Stay to Talk Institute practices a cyclical action system. On the one hand, from the perspective of Education for Development, activities and events of a social nature, designed in partnership with the community, intend to raise awareness and promote understanding of the causes of development problems and inequalities at the local and global level, in a context of interdependence and globalisation, to promote the right and duty of all people and all peoples to participate and contribute for integral and sustainable development. On the other hand, Cultural Immersion Experiences aim to promote heritage education not only for those who visit us but also for different target groups, such as families, schools and other institutions dedicated to education. The European Heritage Days, in which we participated about 4 years ago, are an excellent example of these social events that enriched our history and allowed for the establishment of stronger ties with the local community and the promotion of common European values.
In short, we want to be awake and mobilise all efforts for social transformation, adding value to our community. We work on true global citizenship, which "means creating bridges between the local and the global, discovering in the neighbourhood, in the village, in the city what connects us to the world. It is being receptive to current challenges and thinking about the pros and cons of these challenges. It is to raise the voice to promote human rights and respect for difference and diversity. It understands that we inhabit a common house and only have this planet, so we have to protect it (...) it's not being accommodated. Still, bothered by social, environmental, political and economic injustices (...) it's taking your hands out of your pockets and acting to ensure a fairer, more dignified, more inclusive and more sustainable world." (Dictionary of Development, 2022)
Project Description
Project legacy
Budget Breakdown