Country profile
Croatia
Contact
Ms. Anuška DERANJA CRNOKIĆ
National Coordinator for Croatia
Overview
European Heritage Days in Croatia - Dani europske baštine u Hrvatskoj

Theme for 2023: Living Heritage
EUROPEAN HERITAGE DAYS 2023 IN CROATIA
Living Heritage.
This year again, the European Heritage Days event is traditionally held in September and October with a central theme entitled Living Heritage which aims to emphasize the importance of the common cultural heritage of the community of European nations, and in particular intangible cultural heritage. The Ministry of Culture and Media is also marking the 20th anniversary of the adoption of the Convention for the Safeguarding of the Intangible Cultural Heritage.
Living heritage includes places and specific sites and objects, rituals and events, as well as various forms of preservation of the past through collective memory. These valuable fragments and symbols of the past carry the identity and continuity of the community and often entail specific traditional knowledge and skills that disappear. Therefore, we invited all interested parties to join numerous events, lectures, gatherings, festivals, workshops, exhibitions and panels, thus jointly marking this year's event dedicated to the living heritage.
The 2023 European Heritage Day programme booklet provides basic data on all events – their brief description, place, date and time of the event, as well as all available links to additional digital content and information – to facilitate visit planning and selection.
European Heritage Days in 2023 are celebrated in as many as fifty locations with the richest cultural programme with more than 150 events. This year's theme – Living Heritage – especially relies on the people, members of the local community who play a key role in giving their love and dedication to unselfishly protect the intangible cultural heritage and pass it on to the next generations.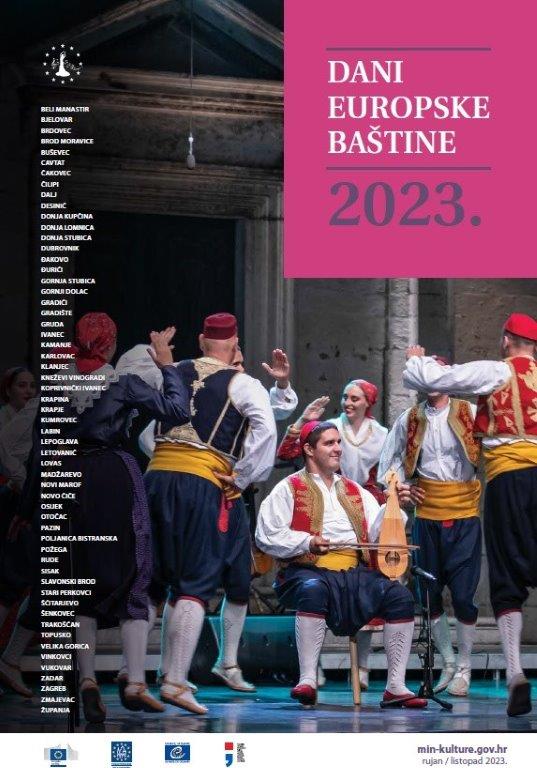 Additional information
Ms Anuška Deranja Crnokić
Director of Directorate for Archives, Libraries and Museums

Ministry of Culture and Media
Runjaninova 2
HR - 10000 ZAGREB
CROATIA

+385 (1) 4866523
+385 (1) 4866680
www.min-kulture.hr