Heritage Carers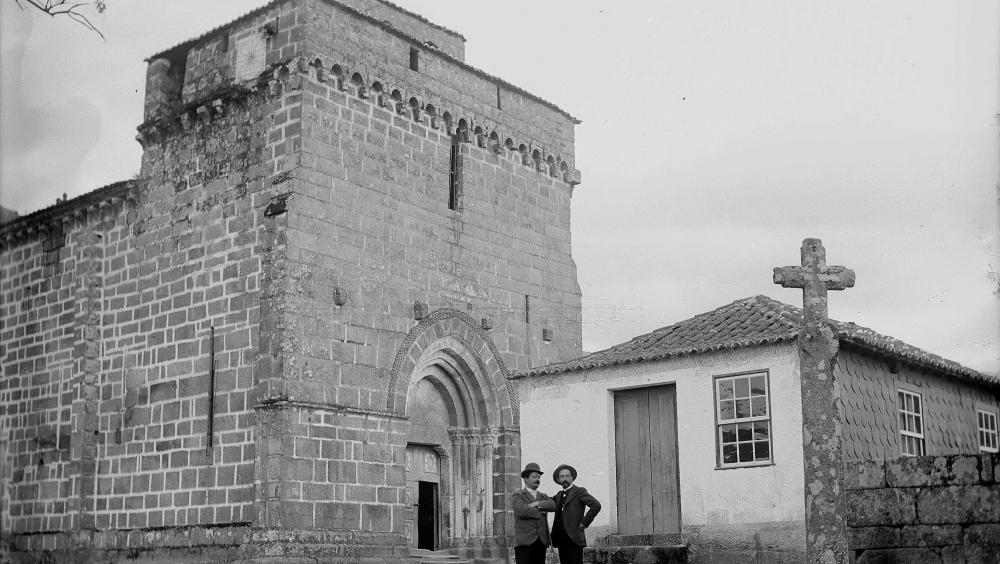 Awarded
Story details
Storyteller
Rota do Românico | Rosário Machado
Overview
A CARER is a person who not only takes care of, but also cherishes, protects and respects whatever it is responsible for. Considering these precepts and after examining the testimonies of the HERITAGE CARERS along the Route of the Romanesque, we found an interesting coincidence between these people. The vast majority of the CARERS share similar life stories with regard to their baptisms, communions, weddings and the religious life of their children and grandchildren. Most CARERS started carrying out their tasks at a very early age, as is the case with little Beatriz who, at 10 years of age, accompanies her grandmother, 'Dona' Glorinha, when she is taking care of the Church of Saint Vincent of Sousa, in Felgueiras. CARER, in these cases, goes far beyond the etymology of the word. In each face, in each personality and, we can add, in each soul, there is a sense of belonging and dedication, almost as if these people were cornerstones of the churches, keeping them upright. The fact that their grandparents' grandparents, their parents' parents, also performed the same, or similar, duties leads these people to carry out their tasks with pride, dedication and commitment, as a way of honouring their ancestors. Times are changing: these CARERS' stories will eventually be lost. Now, the CARER's children are taking on their own roles. This leads us to reflect on the importance of these HERITAGE CARERS and their continuity.
HERITAGE CARERS In the land of the Sousa, Douro and Tâmega valleys, in the heart of the North of Portugal, stands an important piece of architectural heritage of Romanesque origin. These common traits carry legends and stories born with the founding of Nationhood and which bear witness to the significant role that this territory formerly played in the history of the nobility and religious orders in Portugal. This heritage is structured in the Route of the Romanesque, which sprang forth in 1998, within the municipalities that comprise the VALSOUSA - Associação de Municípios do Vale do Sousa (Association of Municipalities of Vale do Sousa) and extended, in 2010, to the remaining municipalities of the NUT III – Tâmega and Sousa, thus bringing together a common historical and cultural legacy in a supramunicipal project. Raising the citizens' awareness to the issue of historical, architectural, immaterial and landscape heritage, drawing their attention to the importance of preserving their resources, is a relevant way to integrate, educate and train the population. We believe that engaging the community in an interactive and innovative way reinforces its interest in history and local heritage, promotes pride in the past and contributes to the sustainability of peoples and the development of new knowledge and skills. Anchored in a set of 58 heritage elements with enormous value and exceptional particularities, the Route of the Romanesque develops outreach work with the people who live in this territory. Proof of this are our HERITAGE CARERS. CARER – a person who takes care of something, who looks after it, who is diligent. The Route of the Romanesque has a total of 44 HERITAGE CARERS. In each Church, Chapel or Monastery in this territory, the Route has a partnership with a CARER. People who are proud to guard/watch/protect what is 'theirs', what is an integral part of their individual and family history. They see this responsibility (that of caring) as a true life commitment, turning these heritage elements into a 'treasure', available to be (re)discovered and enjoyed by all of us. The identity of the CARERS and HERITAGE Many CARERS have inherited this legacy from their ancestors - the legacy of CARING. This is the matrix of their stories, because they were born in the house next door..., because they were baptised in that Church..., because they got married at that Monastery … The Route of the Romanesque is focused on keeping the memory of these HERITAGE CARERS alive, a memory that enriches the history of each specific monument. Remembrances that fill, in space and time, the memory of those who stay here. Memories that make these CARERS responsible for opening the monuments, who, in a certain way, guarantee that whoever visits us can reflect on and feel the Heritage we find in this territory. They allow new generations to learn about their past, traditions, histories, customs, culture and identity. Day after day, these CARERS are responsible for sharing knowledge. In 2018, the Route of the Romanesque, as part of the European Heritage Days, produced small (and amateur) features. Each HERITAGE CARER along the Route of the Romanesque was contacted to record a testimony, whose main purpose was to perpetuate the memories, stories, local traditions and tales associated with the monument or the families who had some relationship with it. The result was quite surprising: Church of Saint Mary of Veade - Celorico de Basto Submitted to classification Delminda Gonçalves is 72 years old. She was an emigrant for 29 years, but says that she always had a strong connection to her hometown Church. Ever since she was a child, she joined her sisters in their religious affairs in the Church of Veade. She told us that her parents and grandparents always conveyed a sense of great respect for the churchyard to the whole family, as they saw this place as sacred. They said that their loved ones lay there: '...my grandmothers were very devoted to the churchyard of this Church. They said that we couldn't speak loudly or play there. Because our ancestors are buried there.' Monastery of the Saviour of Travanca - Amarante National Monument since 1916 Rosa Carvalho, or 'Dona' Rosinha as she is affectionately known, is 63 years old and has a strong family connection to the Monastery of Travanca. She's been taking care of this space for 44 years and "inherited" an altar that had been cared for by her grandfather, once a parish sexton. 'Dona' Rosinha's father was born in a house next to the Monastery's church, and her grandmother, at a time when the monument was undergoing construction works, cooked the soup for the workers' lunch. This family connection makes 'Dona' Rosinha an integral and key element of the proper functioning of the Monastery of Travanca, since she is also a member of the church's choir and reading group. 'Dona' Rosinha was 'almost' related to the famous writer Agustina Bessa-Luís (1922-2019). According to 'Dona' Rosinha, her grandmother was the writer's wet nurse and two of Rosinha's relatives were Agustina's godchildren, a frequent visitor to the Monastery of Travanca. However, this Monastery's connections to the art world don't end with Agustina Bessa-Luís. Painter and sculptor Acácio Lino (1878-1956) was born in the parish of Travanca, and his grave is in the Parish Cemetery next to the Monastery. His name was also given to the local primary school, where 'Dona' Rosinha works. Rosa Carvalho's dedication, and its connection with two great names of Portuguese culture and art, make the Monastery of Travanca an exceptional place, where heritage and devotion are intertwined with people's lives. Chapel of Our Lady of Deliverance of Fandinhães - Marco de Canaveses Public Interest Monument since 2012 'Dona' Maria Odete, 69, has been caring for this Chapel (together with her sister) for over 14 years, and here she found her faith in Our Lady of Deliverance. 'Dona' Maria Odete told us that one day, when she left the hospital in a wheelchair, she asked a relative to take her to the Chapel, to pray to Our Lady. The moment she prayed to Our Lady of Deliverance, she managed to get up from her wheelchair... In this testimony, we can make a connection between devotion and heritage, something that corresponds to the oldest form of tourism - religious tourism - and its earliest expression - pilgrimages. 'Dona' Maria Odete's devotion reflects the true meaning of faith, not only to the Chapel's patron, but also to the ancestors who built, developed and cared for this monument. 'Dona' Maria Odete is a carer who, throughout her life, also received special care from the chapel. The lesson we can draw from this example is, undoubtedly, that if we care, we will be taken care of. Church of the Saviour of Real - Amarante Submitted to classification José Teixeira da Silva, 88, was born next to the Old Church of Real. He nostalgically remembers everything that happened there since he was 5. He was baptised there, but he doesn't remember that moment (smiles...). The house where he lived was a "home" to many people who went there to work in agriculture. Some were relatives, because it was a very large family. The Church was right next door; it was always open and people could pray at any time. His godmother and aunt, who was single, was the ultimate 'carer' of the space. She also assisted the priest. At the time she was a sort of parish sacristan, as she was responsible for ringing the church bells for funerals, weddings and baptisms. If, for any reason, she wasn't able to do it, one of her relatives would take her place. He remembers that, when he was young, a woman's body was found during the renovation of the choir's staircase: 'Her hair was still perfect, black as a blackberry'. He remembers, as if it were yesterday, the mass being celebrated in Latin, with the priest turning his back to the people. All the religious activities were carried out in this Church, which was rather poor, compared to today. There were pictures of saints all around, the choir, the preaching pulpit, and also two tombs, although he doesn't remember who they belonged to. That's how he remembers the small and beautiful Church of Real. Time went by and a new church was built in another area of the parish and the old Church of Real was no longer used for worship and was forgotten. Memory takes him back to this period and to a procession that no longer exists, which went from one church to the other. His family felt so close to the old Church of Real that, at Easter, they took the lead in conducting celebrations, which were held right there, in the old Church. We should note that young people seized religious activities as an opportunity to flirt: 'In the old days, during Holy Week, pious women used to say: It's Holy Week, it's the week of Our Lord; you don't sing or dance, or think about Love. And I'd stand there, next to the Church, watching the girls go by, all covered up, with headscarves; I could only see their little faces.' Mr. José's and his family's love for the Church of the Saviour of Real is undoubtedly a display of how much care was put into preserving that church, the source of so many beautiful memories. It's in this context that these HERITAGE CARERS become living witnesses of our ancient Heritage.
European Dimension
Heritage commemorates and symbolizes social integration. This integration obviously has a European dimension that spreads the ideals and history of a people. The main goal of the story Heritage Carers is to reflect on the importance of these carers and their continuity. Preserving all their rights, these testimonies value, promote and sustain a European historical legacy.