European Heritage Days is pleased to support the European Year of Rail, both suggesting it as a sub-theme to help address accessibility within our shared theme - Heritage: All Inclusive - and as a means of increasing the consideration of sustainability issues among our community of event organisers. 
Here we've put together some ways Programme Coordinators can 'hop on' and get involved with the Year of Rail!
Travelling by train: inclusivity and sustainability
This year's shared European Heritage Days theme is Heritage: All Inclusive, and part of this is looking at visitor inclusivity and reducing barriers to participation. Travel is a key component of this, so looking at transport options to events is a practical way to think about the European Year of Rail. Why not put together guides of local events within walking distance of stations, or along a particular route?
Sustainability is another issue we continue to see coming to the fore in our events. In 2020, Germany's programme considered environmental factors surrounding conservation and repurposing of the country's historic buildings. Norway's 'Learn, Use, Care' theme highlighted the role the cultural heritage sector can play in sustainable consumption. With travel by rail largely electric, the European Year of Rail website emphasises that it "emits far less CO2 emissions than equivalent travel by road or air… Plus it is the only transport means that between 1990-2017 has consistently reduced its emissions and energy consumption." So, suggesting rail as a travel option for visitors can help reduce our joint carbon footprint.
Of course, all travel communications and recommendations must be considered within the context of Covid-19 safety and follow any restrictions or guidance in place at the time.
Consider the Year of Rail as a sub-theme
Alongside Heritage: All Inclusive, the European Year of Rail could help form a theme for your events.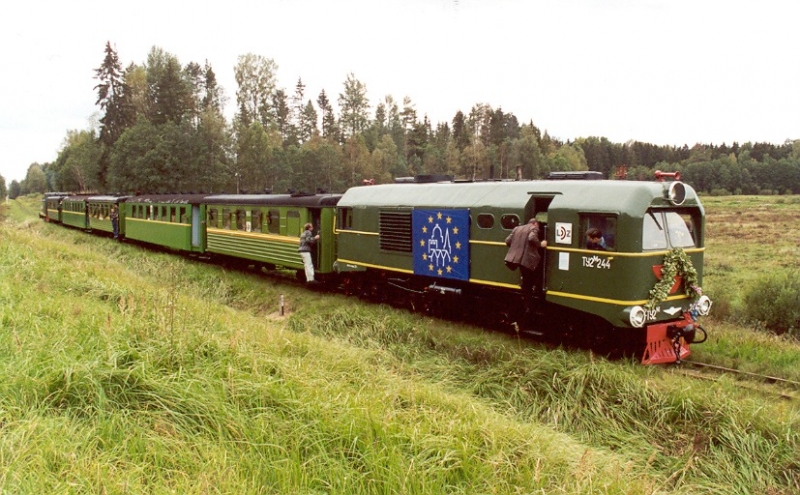 Programme coordinators in Latvia are already taking inspiration from the European Year of Rail, and have announced 2021's programme will be dedicated to transport. At a talk at the Annual Assembly of European Heritage Days held on 15th March, the National Coordinator for Latvia explained how they are encouraging events looking at a huge range of transport venues and topics, from ancient bridges to lighthouses and vehicle collections. For railways in particular, the focus will be on the history of city development around key routes, how we can repurpose abandoned infrastructure, and how we can protect historic systems still in modern use.
Encourage events about rail
With transport such as key part of our shared history, and with train-spotting, modelling and photographing trains a long-standing hobby amongst rail enthusiasts, many programmes already regularly include events about railways and trains.
Last year, France's Journées du Patrimoine included a range of events across the country run by the French Railway network (SNCF), from guided journeys on vintage carriages in Occitania, to workshops for young people demonstrating track maintenance in Pays de la Loire, and opportunities to learn about the technological and commercial evolution of the train on the regional lines of Brittany. Theatrical tours, discovery workshops and chances to meet volunteers at the Cité du Train museum in Mulhouse – the largest railway museum in Europe – were another highlight.
Meanwhile in England, progress of the HS2 high speed railway was highlighted during Heritage Open Days. A series of webinars explained the important archaeological finds which have been uncovered during excavations for the new tracks, and explained the unique insight they provide into the history of Britain.
Submit events to the European Year of Rail calendar
As well as advertising events within local and national programmes, individual events or programmes can also be included within the European Year of Rail calendar. This provides coverage on the project's website as well as the opportunity to be shared across social media. To submit an event, email contact@yearofrail.eu.
The European Year of Rail will officially kick off on 29th March via a live-streamed conference co-hosted by the European Commission and the Portuguese Presidency of the Council of the European Union. The event is open to all, and booking details can be found on the ec.europa.eu website.