National Heritage Week in Ireland
Coordinated by the Heritage Council, National Heritage Week runs throughout Ireland and 'celebrates all things heritage'. Venues and attractions taking part aim to offer something different to their usual year-round options, either for free, for a donation or at a discounted rate. Last year over 1,000 projects were involved, including digital activities.
For this year's Sustainable Heritage and Biodiversity theme, cultural traditions will be particularly highlighted, such as using research about Irish history to create events shedding light on Irish society today, and looking at the role of passing on crafts, skills and stories from one generation to the next. Another aspect of sustainability being explored will be biodiversity, and the importance of maintaining and promoting the variety of plant and animal life living locally as well as the conservation of native species, particularly within the context of climate change.
Events already announced include a sustainable gardening workshop at Moate Library; a series of talks, tours and tastings by the Irish Seed Savers Association designed to deepen the connection with Ireland's food crop heritage; interactive plant drawing sessions for children in Ballydehob; and a look at the 'waste not, want not' approach of the medieval era at Athlone Castle.
National Heritage Week takes place between 13th – 21st August. More information about the programme can be found at heritageweek.ie, and the events can also be followed on Facebook at @HeritageWeek, Twitter at @HeritageWeek, and Instagram at @nationalheritageweek.
Dny evropského dědictví in the Czech Republic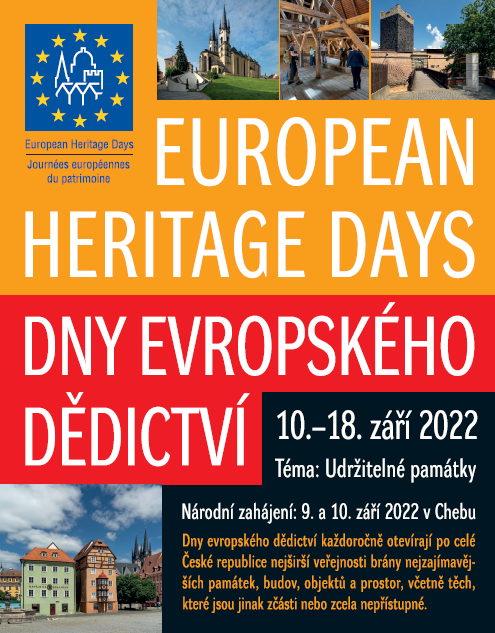 European Heritage Days in the Czech Republic – Dny evropského dědictví – opens the gates to some of the country's most interesting buildings and historic sites. Organised by the Association of Historical Settlements of Bohemia, Moravia and Silesia, the programme of events particularly features access to areas which the general public can't normally visit.
The Sustainable Heritage theme in the Czech Republic has been announced with the remit to preserve the past for future generations. The programme is described as an opportunity to re-examine the role of heritage in the context of the environment, the economy and society, with events encouraged about protecting tangible and intangible heritage, sustainable tourism and responsible use of resources.
After launching with a parade, beer festival and traditional carpentry workshops hosted by the Mayor at Chebské castle, other events announced include an architect-led tour around District House in Slaný to show how a five year restoration project has adapted this important historic building for use as a library and café, and entry to an exhibition about the history of cycling in the Pardubice region at the Vysoké Mýto Regional Museum.
Events are taking place between 10th – 18th September. Listings and an interactive map of the events can be found online at historickasidla.cz, and the events can also be followed on Facebook at @EHD.cz.
Journées européennes du patrimoine in France
2022 will see the 39th year of European Heritage Days – Journées européennes du patrimoine – events in France. The programme has previously attracted visitors to 17,000 places as wide-ranging as churches, castles, theatres and courthouses in both rural and urban settings. Guided tours, demonstrations, music concerts and theatre performances all regularly feature as part of a varied programme.
This year, the Sustainable Heritage theme in France will be considering the topic for both built and natural environments as well as intangible elements of cultural heritage. Guided tours and talks from architects will help raise awareness of how heritage development can be part of sustainable town planning, as well as the importance of restoration techniques using reclaimed and natural materials. The economic element of sustainable heritage through tourism and local jobs will be examined, alongside events exploring the continuity of traditional know-how. The special 'Look Up!' day for children will encourage younger audiences to discover the history of their region and the importance of its protection and enhancement, with over 1,000 activities expected to be run in collaboration with schools.
Amongst the events already scheduled are guided tours about the approach to energy efficiency during the renovations of Heritage House in Le Hevre, walks around Grand Haze Marsh in Lonlay-le-Tesson to learn about the site's management and monitoring of protected species in the area, and a chance to discover the conservation work and sustainable plans for a new reception centre at the Pas-de-Calais Archives.
The events in France take part between 17th – 18th September and more details can be found on the Ministry of Culture's website at journeesdupatrimoine.culture.gouv.fr, on Facebook at @journeeseuropeennesdupatrimoine, Twitter at @JEP and Instagram  @jepofficiel .
Kulturarvsdagen in Sweden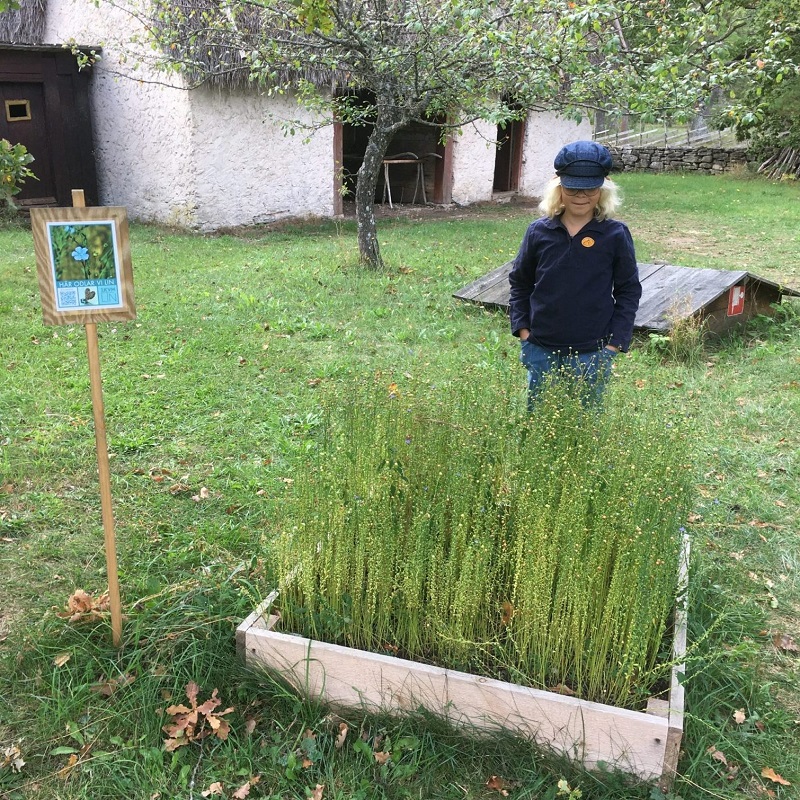 Cultural Heritage Day – Kulturarvsdagen – in Sweden always takes place on the second weekend in September. Organised by The National Heritage Board, last year nearly 300 events took part across the country, attracting over 60,000 visitors.
In 2022, the Sustainable Heritage theme in Sweden will focus on preserving cultural heritage into the future. Organisers are hoping to highlight the active role of people in helping to shape a more sustainable and resilient future and start conversations about what the future might look like. Ideas for events include topics such as renovation techniques, sharing sustainable practices from the past, and raising awareness of preparing for the effects of climate change. Places from museums to farms are expected to take part, with innovative events such as virtual tours and use of QR codes encouraged as part of a hybrid programme of digital and in-person activities.
Events already announced include a guided tour around Jelkgården farm in Delarna to show how the award-winning building restoration work incorporated local building culture, original materials and traditional methods; a day of activities at The State Museum in Skåne including a look at sustainable living in the past and tips on how to garden more sustainably at home; and a recycling workshop for all ages at Ballingstorp inspired by recycling practices of the 18th and 19th centuries.
Cultural Heritage Day this year takes place on 11th September, with events also running on the 9th and 10th. Full listings can be found by province on the website raa.se, and the National Heritage Board can be followed on Facebook @Riksantikvarieämbetet, Twitter at @raa_se or Instagram @raa_se
Sustainable Heritage events are being planned all across Europe. Find out more about each country on their website, and stay in touch with European Heritage Days by signing up to our newsletter at europeanheritagedays.com and via #EuropeanHeritageDays on social media.
All events during this year's European Heritage Days or mentioned in this article may be subject to change or cancellation due to public health regulations. All participants should follow the Covid-19 guidelines and restrictions for their area and circumstances to allow everyone to enjoy events safely.