Country profile
Greece
Contact
Ms. Eleni PAFILI
National Coordinator
Ms. Eleni ZGOULETA
National Coordinator
Overview
European Heritage Days -
Ευρωπαϊκές ημέρες πολιτιστικής κληρονομιάς

Theme for 2023: Living Heritage
Θέμα 2023: «Πολιτιστική Κληρονομιά και Παράδοση: Μαρτυρίες του χθεςστο σήμερα»
Dates: 22 - 24 September 2023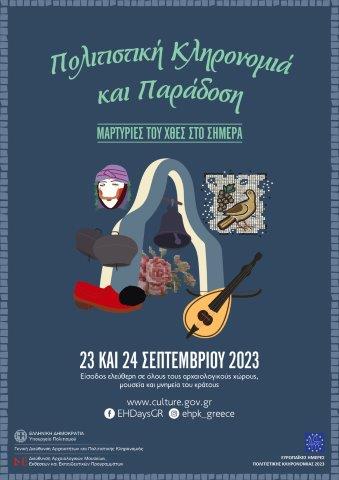 Greece is celebrating the European Heritage Days with the shared European theme for this year "Living Heritage" rephrased as "Heritage and Tradition: Evidence of yesterday in today", on 22-24 September.
This year's theme is connected with the 20th anniversary of the 2003 UNESCO Convention for the Safeguarding of the Intangible Cultural Heritage, giving emphasis on the role of heritage and its relationship to communities and society.
The theme refers to practices and skills that have survived from one generation to the next and may still be being practiced today. It provides event organisers with the opportunity to explore lands, practices and objects that are part of a community's collective memory, promoting a sense of identity and continuity while cultivating in parallel the significance of  heritage's protection as well as respect for cultural differences and creativity.
This year's events include a wide variety of content, familiarising the public, indicatively, with:
- traditional dances, songs and festival customs from different parts of Greece (some of which have been included in the Depository of Intangible Cultural Heritage), artefacts of folklore art, traditional costumes and vesture, traditional cuisine and Mediterranean diet (daily and festive dishes), traditional professional practices (seafaring, irrigation, silversmithing and jewels, pottery, farming of olive and mastic trees, fishing techniques, lumber jacking, etc.), embroidery and weaving (yarns, textiles, techniques of weaving, fabric dying methods, processes of textile printing, rug making), diachronic use of plants for therapeutic purposes, popular folklore beliefs, local traditions and fables, games and toys, shadow puppetry shows, elements of daily life, evidence of older or historic neighbourhoods and districts in modern urban settings, stories of villages and their monuments, etc.
- modern visual art events (temporary exhibitions of painting, photography etc., classical music concerts, book launches)
- guided tours by curators in local monuments, archaeological sites and museums as well as places bearing historic and living memories, featuring their role in local communities.
European Heritage Days 2023 will be celebrated in Greece from 22 until 24 September with the majority of events being with physical presence of visitors while there will also be some digital ones that will broadcast in real time or not through the electronic media of the organising institutions and will also be hosted at the country's social media pages (https://www.facebook.com/EHDaysGR/, https://www.instagram.com/ehpk_greece/).
On Saturday 23 and Sunday 24 September, entry will be free of charge to all state archaeological sites, museums and monuments for all visitors.
Additional information
Department of State Archaeological Museums and Collections
Directorate of Museums, Exhibitions and Educational Programmes
Hellenic Ministry of Culture
Mpoumpoulinas 20-22
GR - 106 82 Athens
GREECE

www.culture.gov.gr