Keepers of Croatian extended families' tradition, photo credits, NGO "Družina"
Ideas for European Heritage Days events
Events encouraging creativity are always popular at European Heritage Days and can be a great way of exploring intangible elements of cultural heritage, such as learning traditional skills and using historic materials. From pottery to jewellery, and dancing to storytelling, there is a huge variety of potential events which can engage young people through creativity, whether through school projects or family workshops. To get even more creative, why not think about ways to connect contemporary culture with historic examples, such as this event in France where traditional Breton singing was accompanied with beatboxing to explore how the styles can inspire and mix with each other. And as a European-wide celebration, events are also encouraged to also explore cultural heritage from other places such as this workshop in Spain where children made houses for elves and fairies to learn about Icelandic traditions.
Intergenerational events are a particularly good way to show how intangible heritage is passed from one generation to the next. Cookery is one example of skills many people learn from their parents and grandparents, as shown in this story from Slovenia which involved pupils making traditional dishes learnt from their families with the resulting photographs and recipes made into a book to showcase and document local culinary heritage. Another example of generational learning is this story from Croatia in which workshops were arranged for 'heritage keepers' to explain traditional practices such as singing folk hymns and decorating Easter eggs. For more examples and good practice recommendations, take a look at our article on Intergenerational learning in European Heritage Days.
For older children, being proactively involved in creating their own events can be an empowering way to get them involved. For example, video-making contests based on a theme of local living traditions, family history or cultural diversity could encourage exploration of their heritage and stories which matter to them. One project demonstrating this is 'Students for Cultural Heritage' in Georgia which saw young people get actively involved in creating videos and animation infographics to raise awareness about heritage topics and their views as part of the European Year of Cultural Heritage's theme of 'where the past meets the future'.
For more event ideas, take a look at our Living Heritage brochure. There are also plenty of tips and advice which can be adapted from previous themes, such as this article on Sustainable Heritage Events and Competitions for Children!
UNESCO's work with young people
Another way to expand the scope of event programmes is to find inspiration and best practice examples from other organisations. UNESCO runs and promotes a range of initiatives and projects to engage younger people, from volunteering schemes to youth forums through its World Heritage Education Programme. Of particular relevance to intangible cultural heritage is the organisation's focus on engaging youth for an inclusive and sustainable Europe.
One example from UNESCO is the European Young Heritage Professionals Forum which took place in 2019. This project took an innovative and holistic approach, treating tangible and intangible heritage as inextricably linked with the view that the active participation of local communities is indispensable. Two case studies – the art of dry-stone walling and the Venetian Works of Defence – provided hands-on experience to feed into an interactive awareness-raising campaign engaging with the local community in Zadar. As a new generation of heritage professionals, participants were encouraged to become 'Cultural Heritage Messengers' to raise awareness about cultural heritage protection in their respective countries, and they have since worked on individual projects as well as staying connected as an international network.
UNESCO has also been working with European schools to explore how lesson plans and extracurricular activities can reflect the living heritage of their communities. One project looked at the impact of learning about living heritage within a range of subjects, resulting in ten case studies and a resource kit for teachers. For example, elements such as the symmetry of traditional plant and geometric patterns found on the stroje ludowe folk costumes in Poland were examined in mathematics classes. In Estonia, recipes using kama flour were used as a way of learning about language by reading traditional Gothic scripts, exploring etymology and the evolution of the Estonian alphabet and analysing online translations. And in Austria, the bells in the Glöcklerlauf celebrations inspired physics classes exploring sound waves, while computer-aided design focused on digitalising the designs of the caps worn during the parade. These case studies demonstrate how living heritage topics can be integrated into other subjects, providing more context and helping to safeguard knowledge, whilst also making learning more exciting and accessible. More examples from this project can be found on the resources for teachers pages on UNESCO's intangible cultural heritage website.
Young European Heritage Makers launches soon!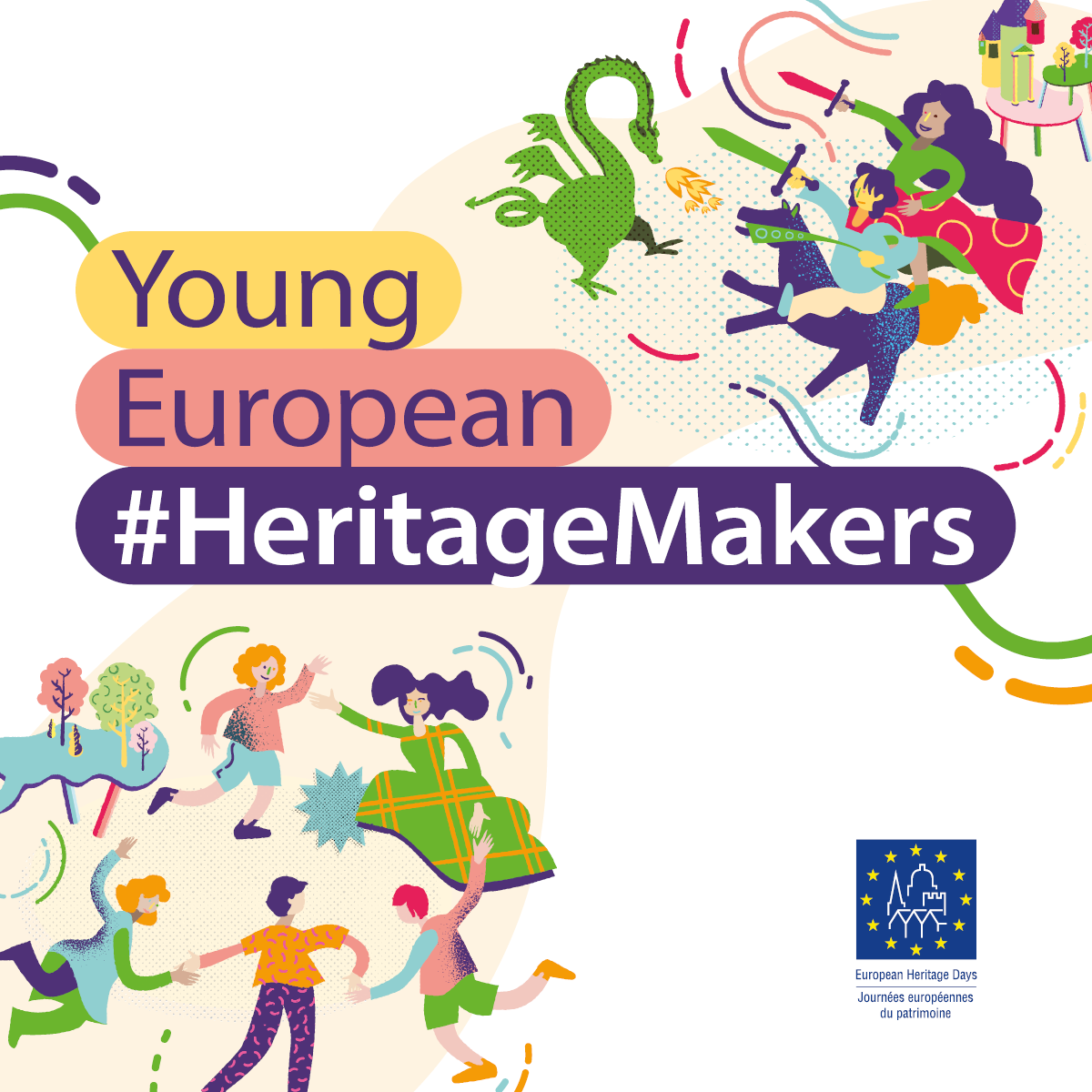 Did you know that European Heritage Days runs a special Young European Heritage Makers initiative as a way of engaging with children and young people ages 6-17?
Running it's 4th edition from September this year to May 2024, the initiative recognises that "children and young people play a crucial role in the future of heritage protection and promotion and are a precious source of creative ideas and contributions to the field of heritage in general". And it encourages young people to "explore their surroundings, identify the most interesting parts of their heritage and present them to the rest of the world", through a creative medium such as a video or painting.
The selected works from 2022 included a group of primary school children making patterns and designs to dress dolls representing Macedonian children from the past, a collage from Finnish students of digitally altered photos featuring people, pets and objects to reflect their memories and explore online culture, and a video telling the story of Budva from the town's mythological founding legend through to the young people recalling their own experiences of living in the area in the modern day.
This year's Young European Heritage Makers activities launch on September 1st! Find out if your country is involved and how to participate in #HeritageMakers.