Finland's Open and Inclusive theme image (credit, Miia Lassila)
Finland: 6th – 12th September
This year, Finland's Cultural Environment Days – Kulttuuriympäristöpäivien - is taking part in 2021's shared theme of Heritage: All Inclusive, by announcing 'Open and Inclusive' - Rajaton ja Avoin – which will focus on presenting the country's diversity; "cultural heritage belongs to everyone and everyone has the right to enjoy and create new cultural heritage", emphasise the programme coordinators. The theme will particularly revolve around the idea of 'crossing borders', both geographically across municipalities and countries, and through encouraging groups with mixed ages and languages to work together.
At the Museum of Central Finland, the role of homeland, landscape and inclusion in the creation of artistic identity will be discussed at a special meeting, while online the results of the 'Matters to Me' campaign - which has been encouraging children to discuss what their local area means to them - will be published by the Centre for Children's Culture and on social media. History across the ages can also be discovered from stone age ancestry in a time-travelling exhibition in Jyväskylä, to a bike ride route through Espoo showing the architectural and town planning development of the area across the 1950s-1980s.
Find out more: kulttuuriymparistomme.fi
Estonia: 9th – 12th September
This year's theme in Estonia is looking at 'Hidden Heritage', with participants able to discover new things, such as seeing rare books, learning about lost traditions and visiting parts of buildings which are normally closed to the public. "What is important and meaningful to us in our daily lives is often only understood when it is on the verge of disappearance or has already disappeared permanently", say the national coordinators who are hoping the theme will also encourage visitors to take a second look at the hidden significance of everyday routines, objects and places which are sometimes otherwise taken for granted and seen as ordinary.
The programme for Heritage Days - Muinsuskaitsepäevad – is expected to feature access to historic buildings, museums and libraries, as well as excursions to cultural sites and interactive workshops, with events either free or at a discounted rate.
Find out more: muinsuskaitsepaevad.ee
Sweden: 10th – 12th September
Cultural Heritage Days – Kulturarvsdagen – in Sweden always takes place on the second weekend of September. Coordinated by the Swedish National Heritage Board, in collaboration with Sweden's Local Heritage Federation and the Working Life Museums Co-operation Council, organisers have been encouraged to think about this year's shared theme, Heritage: All Inclusive and particularly how they can incorporate new technologies to encourage wider participation.
This year's programme will feature a mixture of both digital and in-person events. Online, young people will be live streaming a choregraphed dance from various industrial heritage locations including Grimeton World Heritage Site, while Brunnsmuseet in Sätra Brunn is celebrating the fifth anniversary of improving access to its collections through digitalisation and explaining its plans for the future. a walk around Slöinge will be revealing past businesses through a QR code trail.
Find out more: raa.se
Czech Republic: 11th – 19th September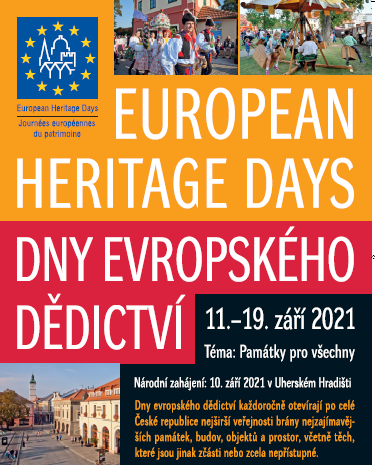 The Czech Republic's European Heritage Days - Dny Evropského Dědictví – this year focuses on the theme of 'Monuments for All'. The celebrations will start with the opening of an exhibition of folk crafts at the Gallery of the Slovácko Museum and ceremonial presentation of titles to people demonstrating expertise in traditional crafts from lime plastering to embroidery, followed by a gala evening on the 10th of September.
During the weekend itself, architecture across the country will be highlighted, including the Baroque fountains at Uničov, while other places which are not normally open to the public will open their doors, including the Printing House at Litomyšl which will be presenting readings of the work Božena Němcová as well as offering jazz music and dancing. Museums will also be taking part, such as The Glass Museum at Kamenický Šenov which will be opening its permanent display of engraved and cut glass for free entry, including its collection of historic crystal pendant chandeliers, as well as an exhibition about the local glassmaking school which is the oldest in the world.
Find out more: historickasidla.cz
Switzerland: 11th – 12th September
'Knowledge and skills are always reinventing themselves' is the motto for this year's European Heritage Days in Switzerland, which is being inspired by the theme, 'Know How'. The theme will look at the 300 specialist trades active in the country, covering work including conservation, crafts and archaeology, and ask how these traditional trades can be documented and taught to new generations within the context of modern technologies. The theme will also encourage consideration of longevity and examine how quality materials and expert craftsmanship can produce objects which last for centuries.
Visitors will be encouraged to experience traditional crafts for themselves. There will be expert demonstrations and workshops throughout the weekend, such as in Aarua, where family workshops will give all ages the chance to practice sculpture techniques using plaster and clay at the Aargauer Kunsthaus Museum of Art, while in St. Urban, visitors can watch an expert brickmaker create ornamental external ceramics like those seen on the nearby 13th century monastery. Other events across the country are expected to showcase further techniques such as building dry stone walls, binding books, forging nails and decorative gilding.
Find out more: nike-kulturerbe.ch/de/hereinspaziertch-denkmaltage
Germany: 12th September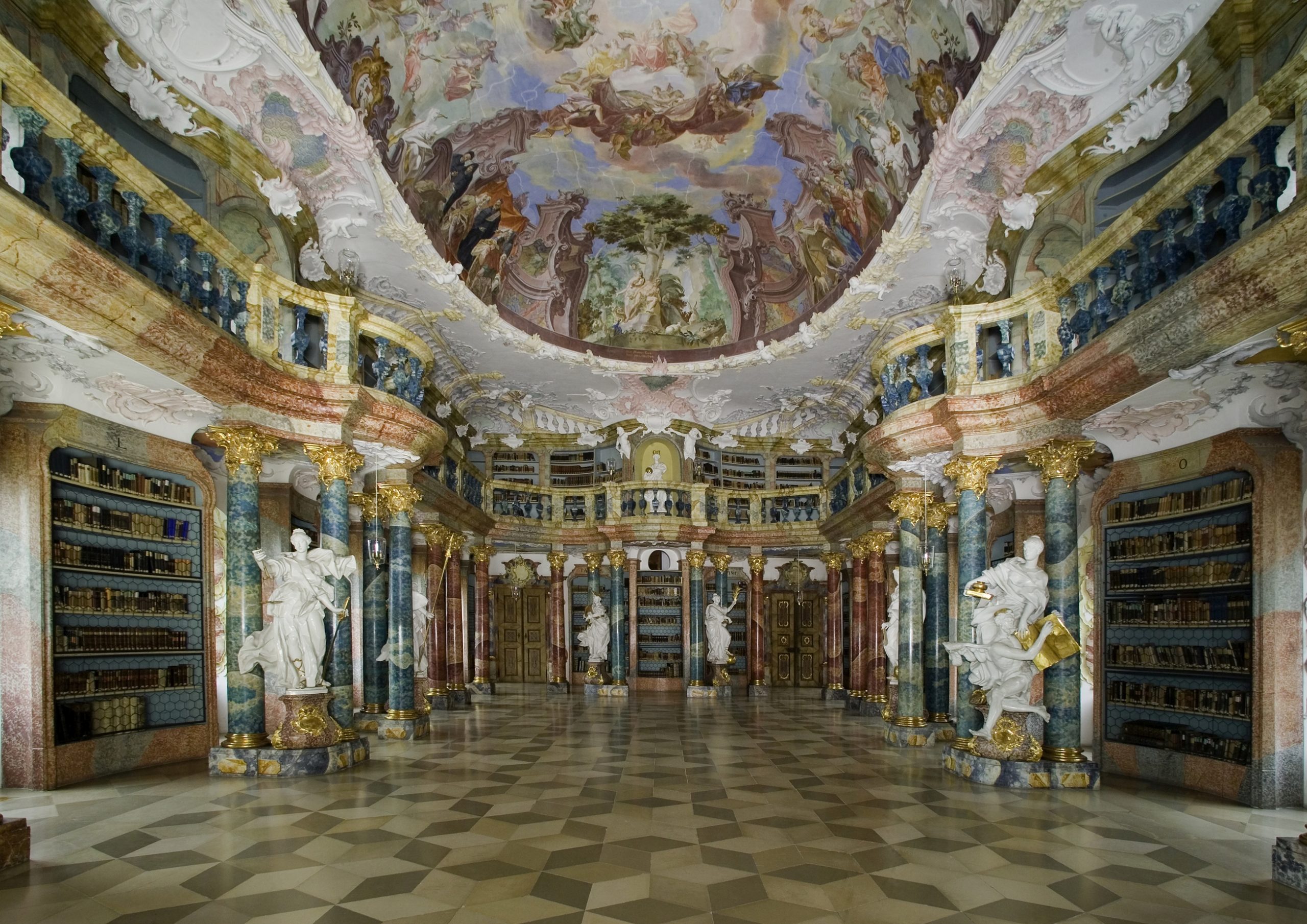 Open Monument Day – Tag des offenen Denkmals – in Germany will be looking at the secrets of optical illusions for its Existence and Appearance theme. Designs used to create a sense of perspective, materials used to imitate other effects, and even whole buildings disguised as something else will all be revealing their hidden secrets and encouraging visitors to take a second look.
7,500 buildings throughout the country are expected to open their doors either in-person or online. Digital events will include a closer look at the facade of the inner courtyard in the Old Castle in Gaildorf showing how illusionistic painting was used to create a stone appearance, and a video of the night glow system in Velbert explaining its design as a false mock-up to drawn attention away from the nearby cast steelworks during WWII. On-site, a tour through Cologne's old town will be pointing out unusual features, from a 20th century home which looks hundreds of years old to machinery hidden within a medieval tower, while an scavenger hunt through the Caspar David Friedrich Centre in Greifswald will challenge visitors to question what is original and what is replica.
Find out more: tag-des-offenen-denkmals.de
Belgium: 11th – 12th and 18th – 19th September (varying by region)
In Belgium, European Heritage Days programmes are taking place across the country's three regions. Each area runs its own them; this year Flanders is promoting the shared theme Heritage: All Inclusive, while Wallonia will be focusing on 'Women and Heritage'.
Amongst the three programmes of events, guided tours around the Aboriginal Signature Estrangin Gallery in Brussels will showcase the art of Australia's indigenous people through exhibitions of paintings and sculptures about the Dreamtime, in Flanders, there will be guided tours around the student mosque at the International Muslim Students Association of Leuven, and in Wallonia, pre-historic cave discoveries will be used to show what can be learnt about women who lived thousands of years ago.
Find out more: openmonumentendag.be, journeesdupatrimoine.be and heritagedays.urban.brussels
All events during this year's European Heritage Days or mentioned in this article may be subject to change or cancellation due to public health regulations. All participants should follow the Covid-19 guidelines and restrictions for their area and circumstances to allow everyone to enjoy events safely.