Sustainable Heritage (2022)
In 2022 European Heritage Days will be celebrating Sustainable Heritage. The shared theme in the context of environmental change, Europe's diverse cultural heritage and the UN's 2030 Sustainable Development Goals, will be looking at both people and places; continuity and learnings from traditions, steps organisers and visitors can make to be more environmentally friendly, as well as how built and natural heritage contributes to a more sustainable future too. Download the new Event ideas brochure!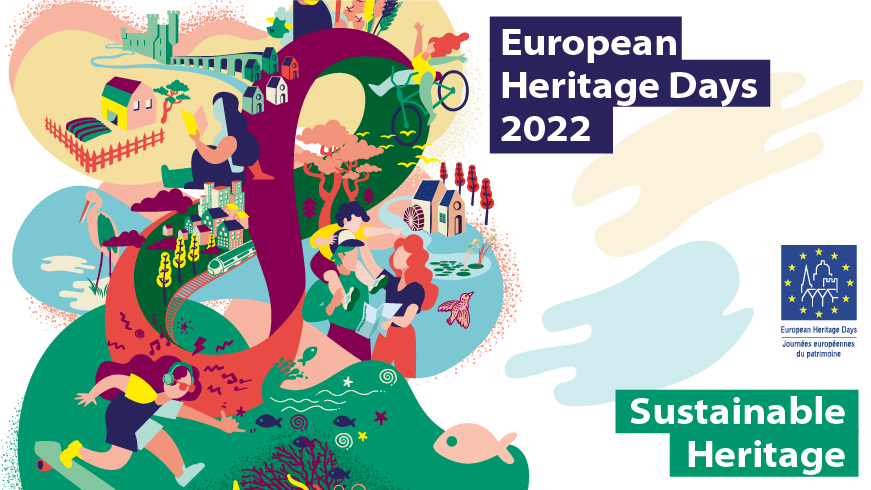 What celebrating Sustainable Heritage means 
Sustainable Heritage will encourage a broad range of buildings to open their doors to explore their role in a sustainable future. Historic buildings will demonstrate their impact in preserving local identities, as well as showing how at-risk heritage sites can be restored or re-purposed using traditional renovation techniques, skills and materials as part of socially and environmentally sustainable urban development. More industrial structures relating to sustainable culture, past and present, are also encouraged to take part, such as factories manufacturing traditional goods, recycling plants and furniture restoration workshops, farms using sustainable practices, renewable energy systems from historic windmills to modern solar panels, and railways and other public transport depots and infrastructure.
As well as the built environment, Sustainable Heritage will encourage increased appreciation of natural heritage, with events explaining strategic management of the landscape and preservation of wildlife and biodiversity. Exploration and enjoyment of natural areas will also come to the fore, with places from small urban green spaces and gardens, to expansive rural countryside, woodlands, waterways and geological features expected to take part.
Bringing social sustainability and eco-tourism models in the 2022 shared theme also includes supporting local communities and economies, while taking steps to reduce possible disturbances to residents like monitoring noise and traffic. Organisers will be encouraged to think about the logistics of their events, such as using local producers and in-season and fair-trade products for food and gastronomy events, or hiring community-based performers and experts for shows and demonstrations. Sustainable Heritage will also consider the role of responsible tourism in the continuity of community traditions and cultural expression such as music, art and dance.
The theme will inspire coordinators and organisers to consider the carbon footprint and environmental effect of events to help minimise the impact of their actions, as well as encouraging visitors to make informed choices. Sustainable Heritage will address issues such as waste reduction, with initiatives like producing digital information, creating re-usable marketing materials such as weatherproof posters and decorations, and providing recycling bins to help visitors reduce landfill rubbish. Venue set-up will also play a role, whether it's going online and creating a digital programme, switching to lower energy utilities such as LED lighting or even planning more events outdoors to make best use of the daylight for in-person events. Venue accessibility will also be an important consideration, with public transport routes highlighted to help reduce visitor travel emissions.
Sustainable Heritage looks towards the future of our shared cultural heritage by discussing the responsible decisions and choices we can all make today.
Now we invite you to explore the new brochure "Sustainable Heritage" with event ideas for 2022, where beside the event ideas you will find examples of good practice and some extra tips. Feel free to share your ideas about Sustainable Heritage on social media using the hashtag #EuropeanHertiageDays.